Ultimate Addons for Elementor is doubtlessly a powerful addon that appends extra widgets to your Elementor panel, to be precise. There are 40+ widgets and extensions in this plugin. With over 100+ website templates you can customize your pages in a matter of seconds. Hundreds of prebuilt section blocks add beauty to your project.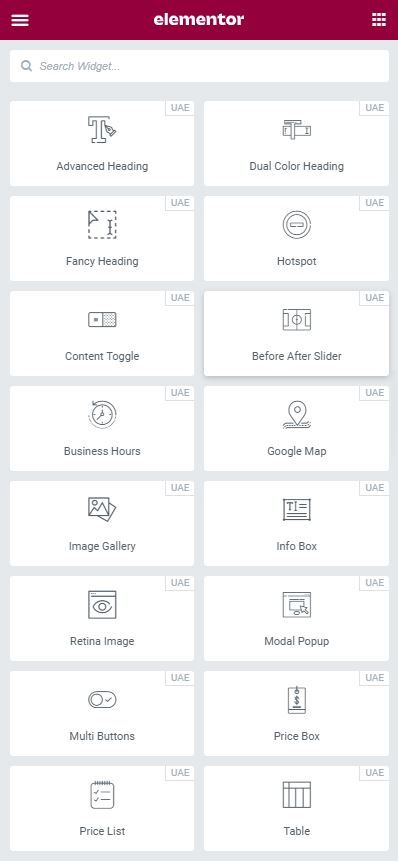 There are many extra widgets it adds to your Elementor Builder. You are however at liberty to choose which widget you want to activate or deactivate like most other addons. Just Navigate to Settings > UAE to perform this action. This can sometimes help you avoid showing the widgets which you don't need. You can only show those widgets which you are using or you love to use.
Ultimate Addons for Elementor Features:
Pre-built Website Templates
Ultimate Addons for Elementor gives you template packs with the help of which you can instantly create professionally designed landing pages. This saves you a lot of hard work that you could spend creating from the scratch. You can customize the template images, text, colour and typography to give it your brand look and feel.
Login form widget of UAE is an extended widget of normal login widget offered by Elementor plugin. With the UAE login widget, you also enable social logins such as Google login and Facebook login.
With the use of the Business Reviews widget of Ultimate addons for Elementor, you can showcase the genuine reviews of your brand which will be fetched from Google and Yelp using Google Place ID or Yelp Business ID. There are various settings to design the review layout to make it look much better.
UAE also offers Woocommerce widgets which unleash productivity and you can easily design the Woocommerce layouts. You can display products in a carousel or grid layout with many other customization options therein.
And more features…
Is Ultimate Addons for Elementor Worth It?
We at cheaperwp.com believe that the only way of succeeding is by doing it together. Our recipe is simple, we succeed only when you succeed.
Is the product original?
Sure. You are getting the original product. We do not deal with GPL or NULLED products, and all the products we offer in our store are with official licenses and support automatic updates.
Does the product support updates?
Yes, when you buy any product from the cheaperwp.com, you will get the original product so you can get updates directly through your site control panel.
Can I get the serial License Key?
You will get the serial if you buy it for unlimited websites.
Can I use the product in more than one website?
Sure, If you buy for unlimited websites
What is the process for manual installation?
After completing purchase, you send your wordpress login details to install the product or we can install it through Anydesk.
What is the process for unlimited pack?
After completing purchase, you will get the product files + Serial key.