SEOPress Pro puts you in control of your search engine optimization. You can make your own HTML and XML sitemaps, control and change meta information and page titles and even incorporate open graphs for social sharing. The PRO version has some additional useful features, such as Google Page Speed checks, Google Analytics support, 404 error monitoring, and a backlink checker (which does require a Majestic account).
his plugin allows you to edit .htaccess and Robots.txt files right from your WordPress admin area. SEOPress aims to draw more traffic to your website through higher rankings in web search engines.
The unique features that are offered by SEOPress include:
–Titles & Metas – Manage titles and meta descriptions and robots for each post or page. This level of customization allows for total control of all of the titles and metas. Each type of page can be set as "noindex" or "nofollow," and the date can even be toggled to not display in Google search results.
–HTML/XML Sitemaps – Improve search engine scanning by offering HTML/XML sitemaps of all posts and pages. Also facilitates website navigation for visitors who may be struggling to find specific information based only on drop-down links.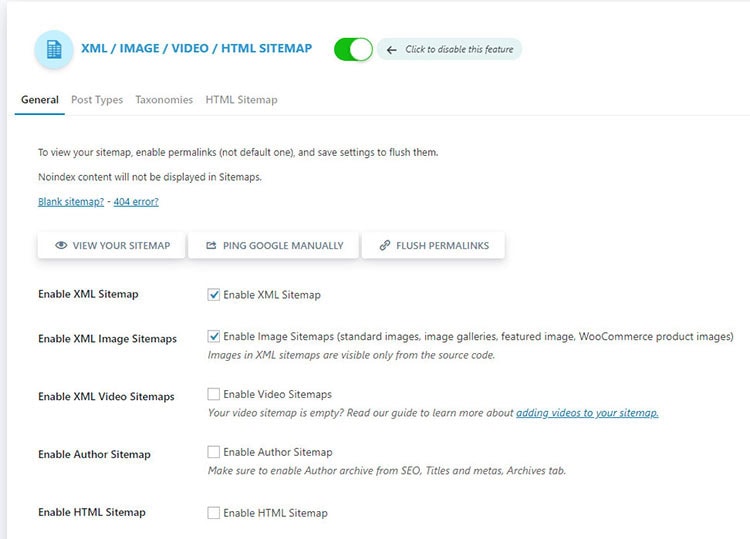 –Google News XML Sitemap – Use XML for sitemaps to boost SEO in Google News.
–Video XML Sitemap – Use XML for sitemaps to boost SEO in Google video search results.
–Image XML Sitemap – Automatically adds images to your sitemap.
–Social Networks – Increase social network appearances with Open Graph tags, Twitter Card, and more. In conjunction with sitemaps, SEOPress can integrate up to 10 social media service accounts.
–Open Graph – These tags allow for pushing a specific photo, title or description to appear in search results.
–Google Analytics – GDPR compatible, this gives the user more control over data storage and export. This feature can offer tracking in which you get to set custom parameters to filter particular information, such as external and outbound links.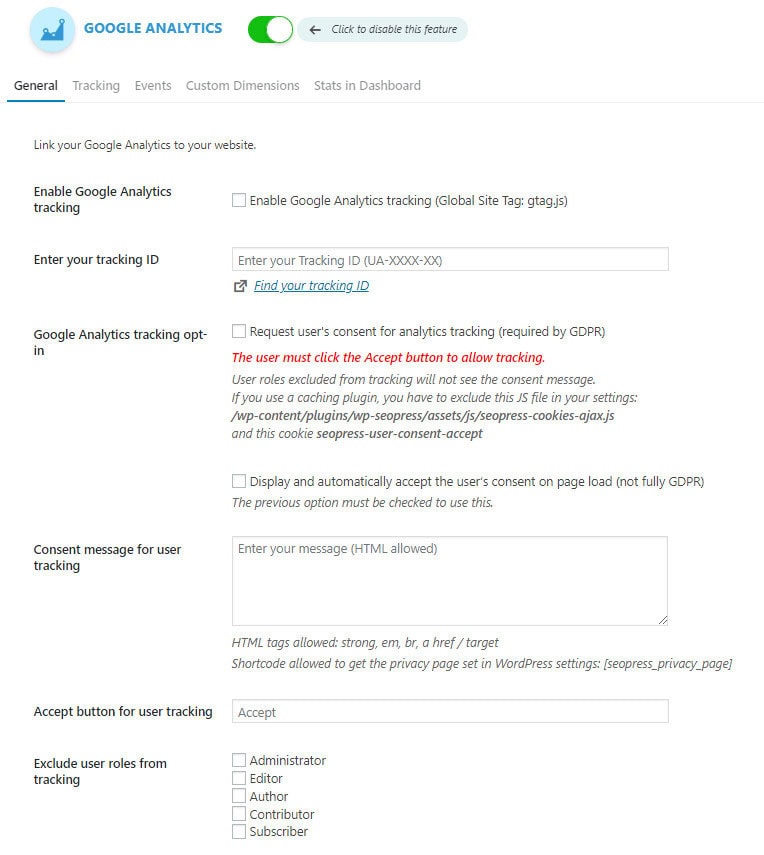 –Improve WooCommerce SEO – Disable customer account indexing along with the cart and checkout pages. This feature can also add Open Graph Price. And Currency data as well as remove the WooCommerce tag that is automatically generated in your header.
–Robots & HTAccess – Edit robots.txt and htaccess files in your WordPress backend.
–301/404 – Create unlimited redirections.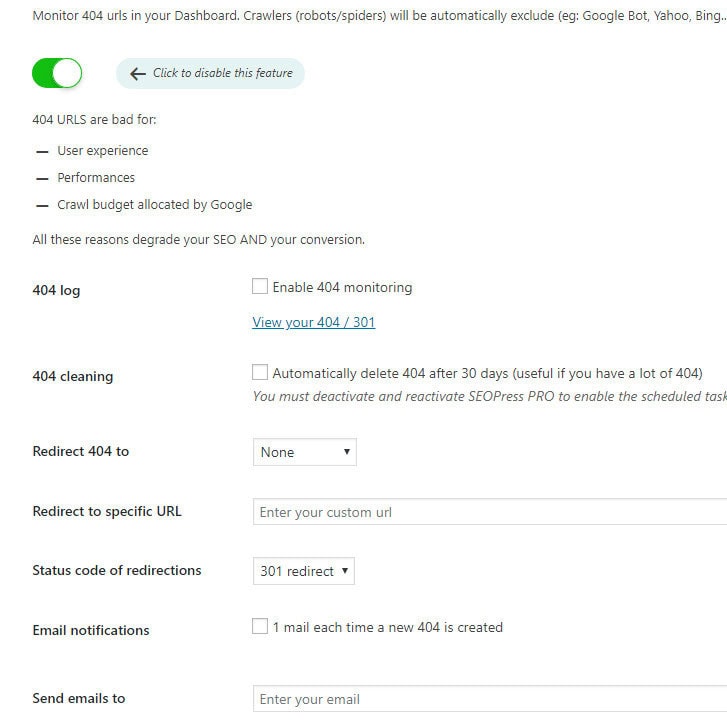 –404 Monitoring – Receive email alerts to each 404 error.
–Google PageSpeed – Monitor site performance and receive your Google Score. This feature even offers suggestions to improve WordPress site speed based on the results of the current performance.
–Google Local Business – Display your store hours, address, and other details for Google with JSON_LD. This feature even allows for departments within an organization to get individual attention.
–Google Structured Data – Mark up posts using Schema.org for enhanced visibility in searches. There is even an option to block-structured data types for particular user groups. You can also use a plugin like Schema PRO for this
–Backlinks – Use Majestic to check backlinks into your WordPress Dashboard. (a Majestic account is required to use this feature).
–Content Analysis & Multiple Line Checker – Can assist with writing SEO material for each post or page. SEO is no longer just a generical keyword search. Google continues to enhance its algorithms to ensure users get the best results for prospective audiences. And being able to structure your website to match the search criteria being used will only score your website higher in a search result.
–Broken Link Checker – A bot specific to hyperlink errors can review your pages for breaks or connections for each link.
–Breadcrumbs – Add breadcrumbs to improve SEO and UX. Navigation breadcrumbs can be automatically inserted.
–URL Rewriting – Change the default slug of your search result pages. For example, stop words can be removed from URLs, along with other actions, to use your desired keywords better.
–RSS Management – Manage RSS feeds (such as posts or comments, to include disabling others from being able to post comments).
–Google Suggestions – WordPress admin can provide the top suggestions for keywords or a sentence.
–Dublin Core – Add Dublin meta tags that are used by government entities and directories such as Bing.
–Import/Export Settings – Export SEOPress settings from one website into another.
–Intuitive Interface – SEOPress puts high importance on user-friendliness so that users can focus on creating content.
–Advanced Settings – Options that more experienced users may use to perform tasks such as removing stop words, redirecting attachment pages, or verifying search engines.
SEOPress Pro Features:
 Google XML Video Sitemap
Structured Data Types
Local Business
Google Suggest
 Google News Sitemap
Backlinks
Dublin Core
Robots.txt & HTAccess
301 Redirections
404 Monitoring
Breadcrumbs
WooCommerce SEO
SEOPress BOT (broken link checking)
RSS Management
URL Rewriting
Custom Schemas
 htaccess
Google Analytics Stats in dashboard
Google Page Speed
Easy Digital Downloads
White Label from WP admin
SEOPress is an all-in-one SEO plugin for WordPress, with a basic version available at no cost. It contains no ads and is entirely white-labeled (no footprints). Content consolidation, HTML/XML sitemaps, tag optimization, and other features make it easy for website owners to create posts that are SEO-friendly.
Content analysis can help ensure that the material presented is ideal for SEO and the audience. Developers can use over 75 hooks to customize the plugin to accommodate their desires best.
Is SEOPress Pro Worth It?
We at cheaperwp.com believe that the only way of succeeding is by doing it together. Our recipe is simple, we succeed only when you succeed.
Is the product original?
Sure. You are getting the original product. We do not deal with GPL or NULLED products, and all the products we offer in our store are with official licenses and support automatic updates.
Does the product support updates?
Yes, when you buy any product from the Cheaperwp store, you get the original product so you can get updates directly through your site control panel.
Can I get the serial License Key?
Can I use the product in more than one website?
Unfortunately, when you purchase any product from the Cheaperwp store, you can only use it on one site.