You've never built a WordPress website like this before. Divi is more than just a WordPress theme, it's a completely new website building platform that replaces the standard WordPress post editor with a vastly superior visual editor. It can be enjoyed by design professionals and newcomers alike, giving you the power to create spectacular designs with surprising ease and efficiency.
1. Divi Theme And Page Builder Plugin
Add, delete and move elements around on the front end of your website. No coding and no confusing back end options.
Design your page in real time and see the results instantly. Create and customize your pages using intuitive visual controls.
Developers can easily combine Divi's visual design controls with their own custom CSS. Divi's interface is simple yet not limiting.
Building beautiful responsive websites is easy. Divi is responsive by nature and also gives you full control over how your website looks on mobile devices.
Enjoy dozens of unique page elements and thousands of design options. Divi gives you full design control over your website.
Just click and start typing! Editing your page has never been this easy. Draft pages on the front end and see the results instantly as you type.
Save & Manage Your Designs
Save and manage unlimited custom designs. Easily re-use them to jump-start new pages. Create advanced design systems and streamline your work flow.
Manage your entire website's design using global elements and website-wide design settings. Divi isn't just a page builder, it's a website design system.
Divi works like a modern software application. Easily undo, redo and travel through your entire editing history. If you make a mistake, Divi has your back.
The Complete WordPress Design System Is Divi
Divi isn't just a WordPress theme, it's a complete design framework that allows you to design and customize every part of your website from the ground up. You have control over everything down to the finest detail. Create the perfect websites for you and your clients.
Divi not only comes with powerful design tools, it also helps you make your website a success. Build your marketing lists with Bloom pop-ups. Promote your website on social media with Monarch social sharing. Increase website conversions with Divi Leads split testing.
If you are a web design professional, you will be amazed by Divi's speed and efficiency. Divi isn't just an easy-to-use website builder for beginners, it's an advanced design system that can help take your team's work flow to the next level.
A Module For Everything:
Call to Actions
Blogs
Sliders
Testimonials
Galleries
Forms
2. Extra Is The Ultimate Magazine Theme For WordPres
Extra is the perfect WordPress theme and Page Builder combo for online news publications and blogs and one of our most advanced WordPress Themes. Extra gives you full control over the design of your entire website using the Divi Builder and a unique set of content elements that are prefect for magazine-style websites.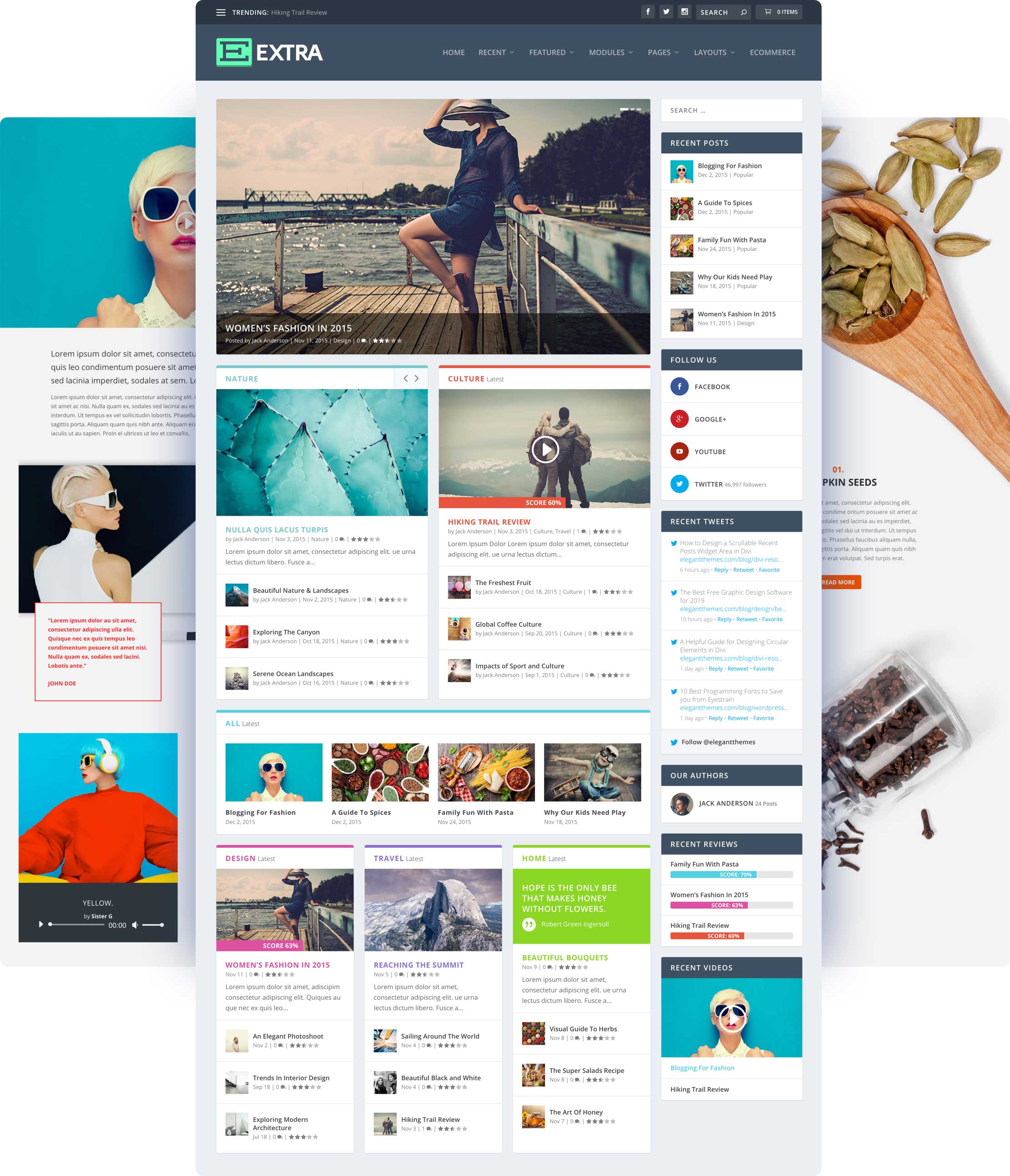 The Divi Builder has been extended to categories with a new set of post-based modules.
Build beautiful story-driven posts with the Divi Builder's advanced drag and drop interface.
Extra is fully responsive, which means it will look great on any device and screen size.
Use Extra's home-brewed review system and invite users to rate your articles as well.
Extra has been built to work wonderfully with WooCommerce, complete with custom styles.
Extra's design has been tailored to pixel perfect perfection. Elegant to its core.
Rest assured that your website will always work with the latest version of WordPress.
The Divi Builder, Now For Categories
Extra takes the Divi Builder framework and extends its advanced Drag & Drop builder power to work on your homepage and categories with a brand new set of post-based modules.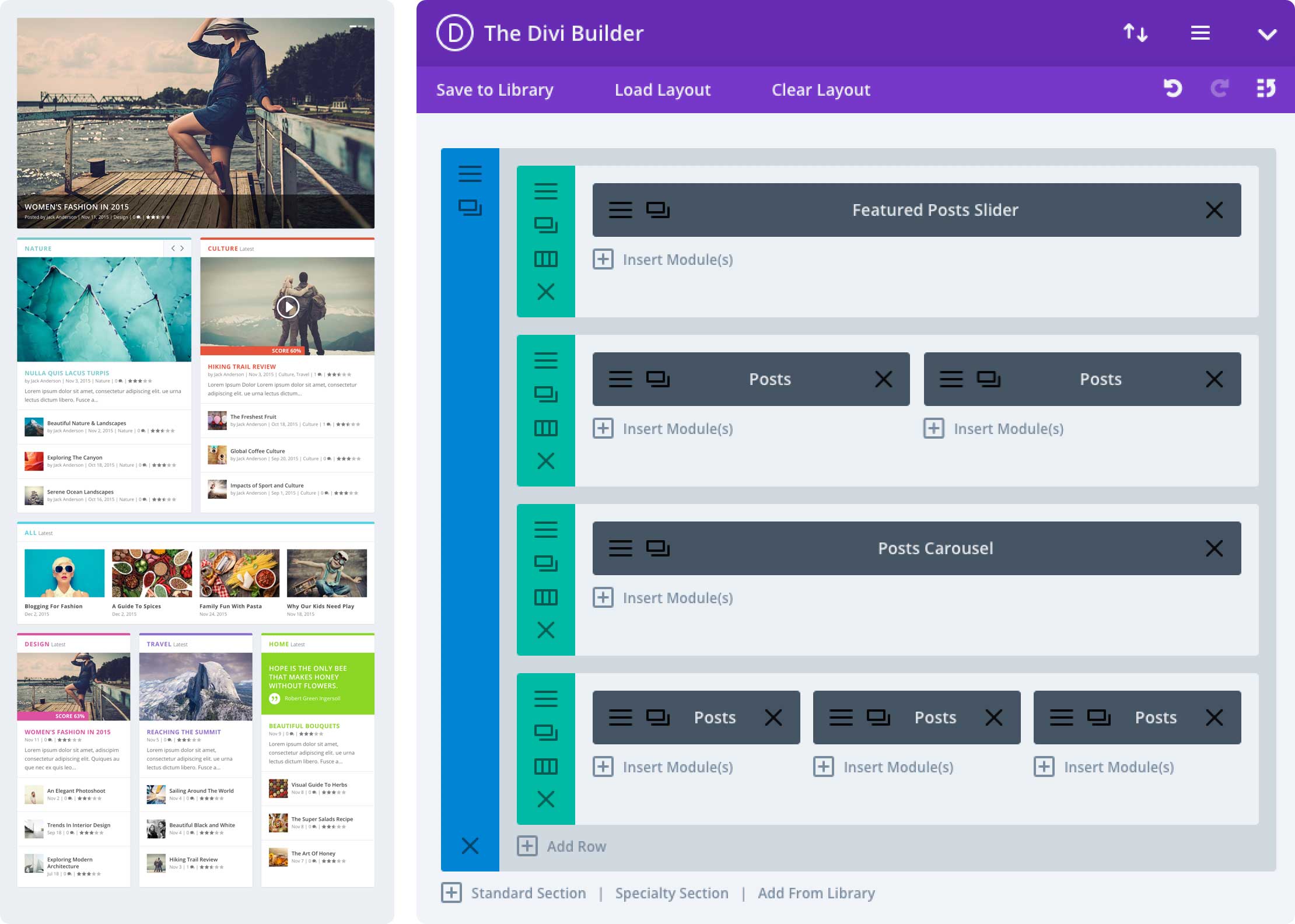 The New Extra Category Modules
Extra comes with a new set of Divi Builder modules built specifically for the needs of bloggers and online publications. These new modules can be used to build a variety of different homepage and category layouts. Now you can build a post feed to meet the needs of your unique content.
Completely Customizable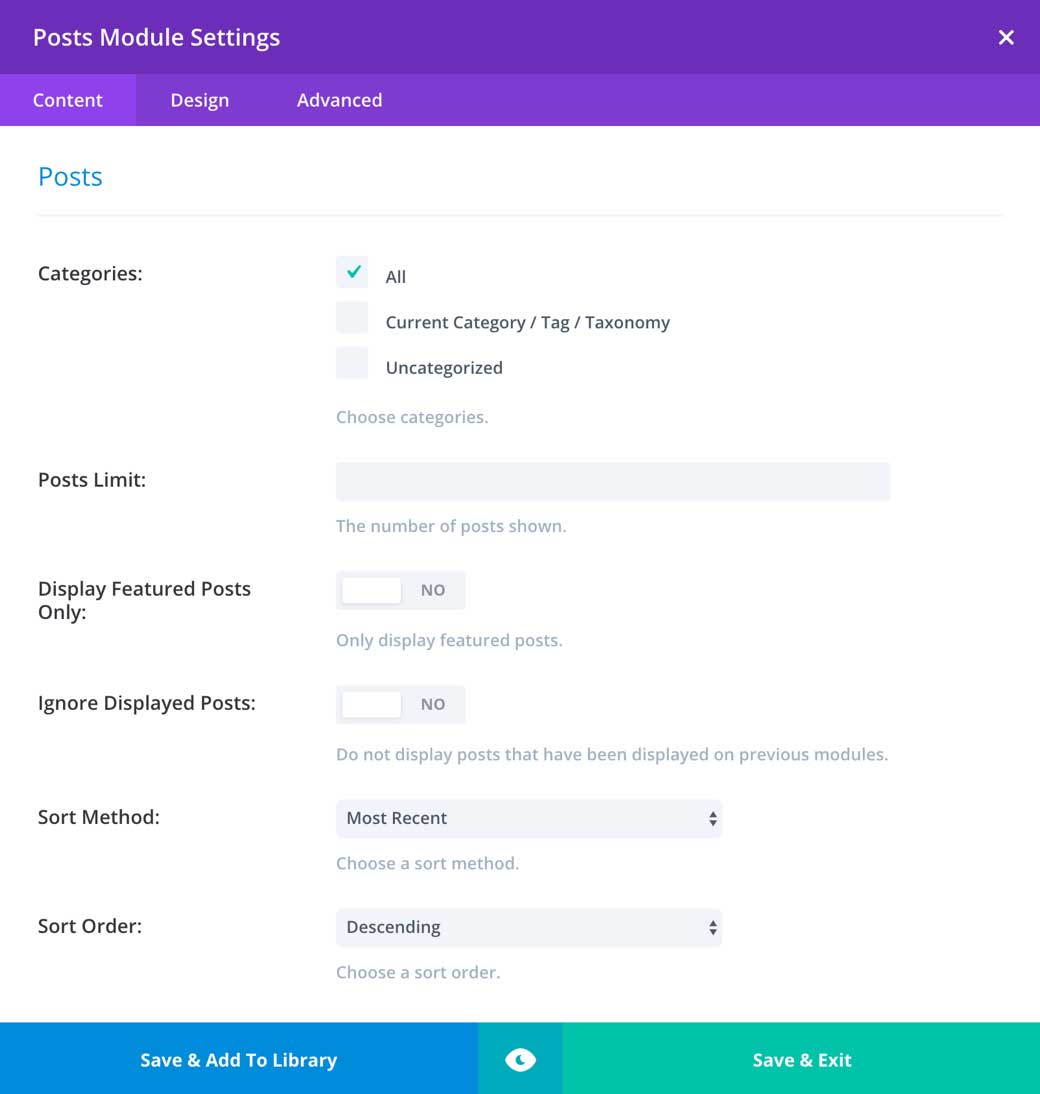 Everything about the layouts built with the Divi Builder are completely customizable. Quickly adjust fonts, sizes, colors, spacing and more with just a few clicks. No coding is required! Using the Divi Builder's Advanced Design Settings, you have complete control over the style and appearance of your page. You can even add Custom CSS.
A Layout For Any Situation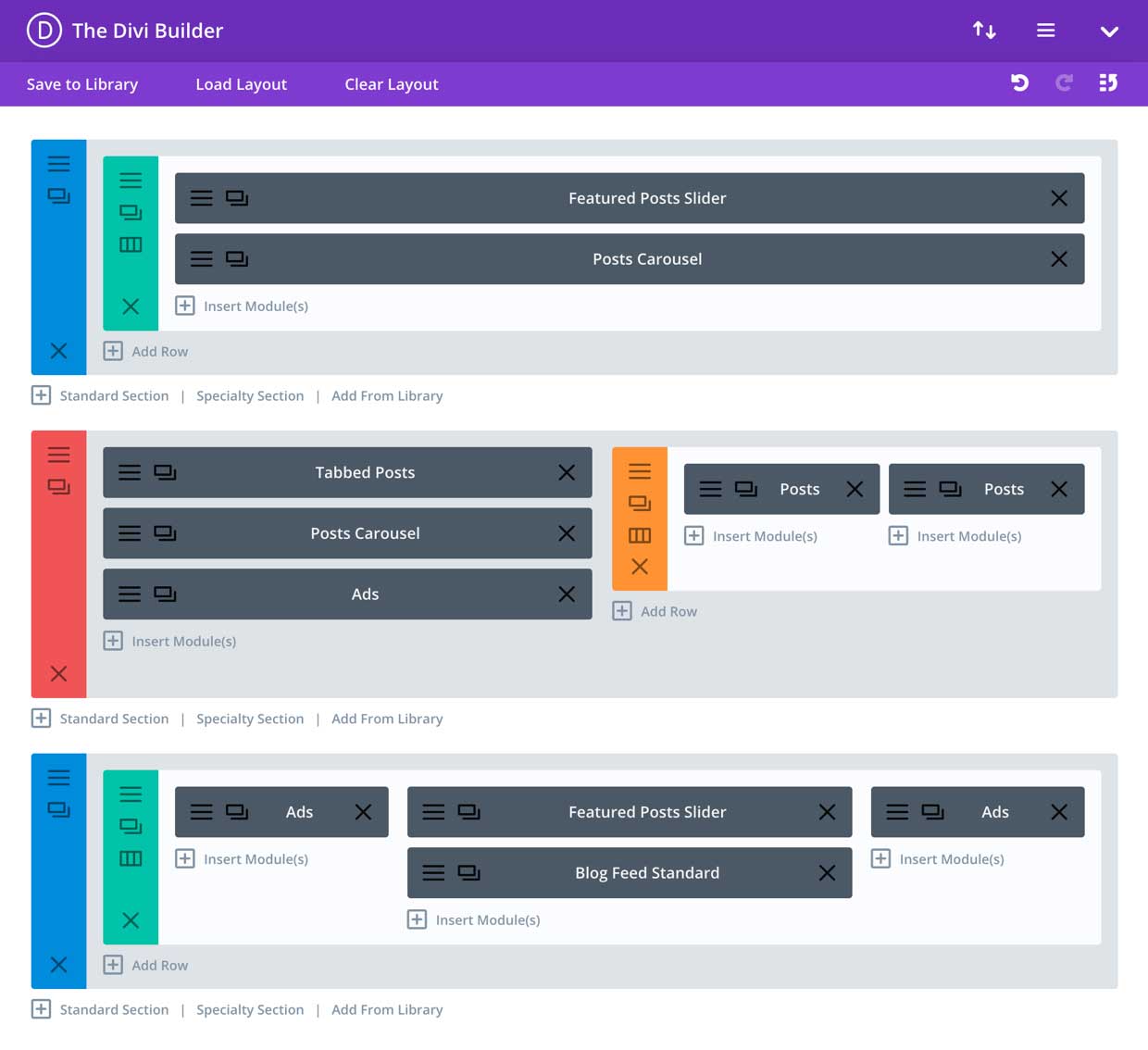 Extra is more than a theme. No longer are you limited to a single static design, or a set of pre-made layouts. Using the Divi Builder you have complete control over the content and the structure of the category layouts you build.
Build Posts & Tell Stories Like Never Before
All of these great features come together in the form of amazing story-driven blog posts that your readers will enjoy. Push the limits of the web as a multi-media platform and deliver to your audience articles that inspire a new sense of wonder and encourage a higher level of engagement. These are the blog posts of the future.
Products & Projects
In addition to standard blog posts, Extra also expands on two other important areas: Projects and Products. If you are a designer looking to showcase your recent work, Extra makes it dead simple. Looking to sell products to your readers? Extra makes that easy too with perfect WooCommerce integration.
WooCommerce Ready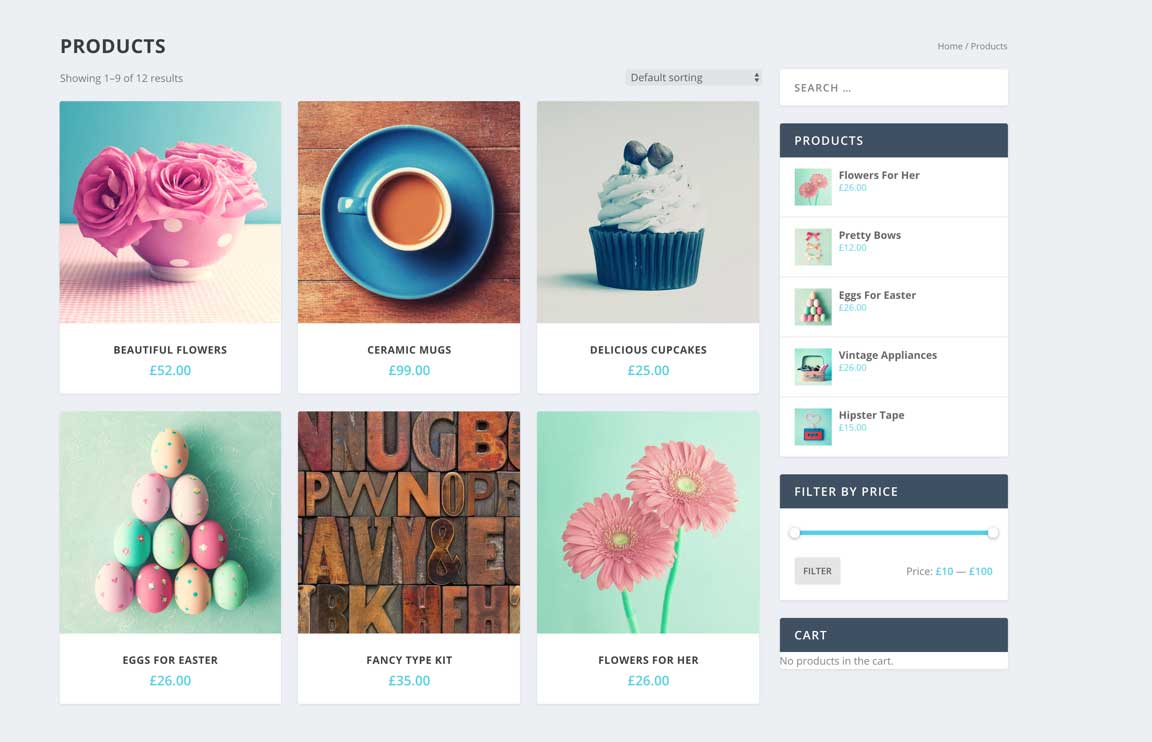 Extra has given special attention to its WooCommerce integration. Everything about the WooCommerce storefront has been re-designed to look right at home inside of Extra's sleek and modern design.
Gorgeous Project Portfolios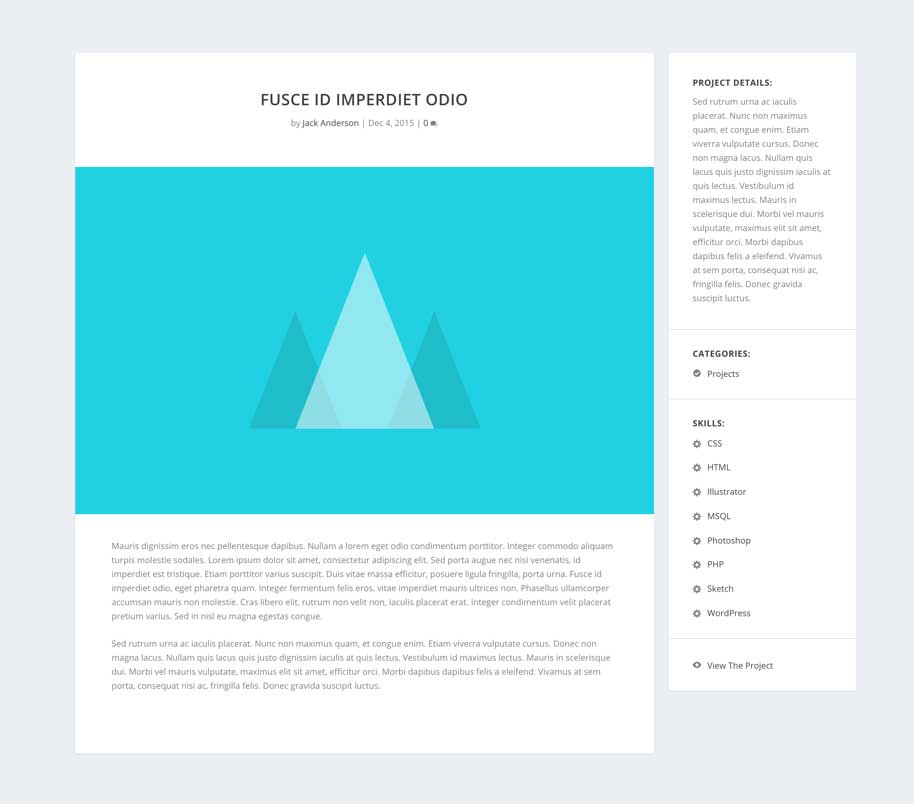 Extra comes with a new custom post type for Projects, making it easy to create beautiful portfolio pages to showcase your most recent work.
Header Options Galore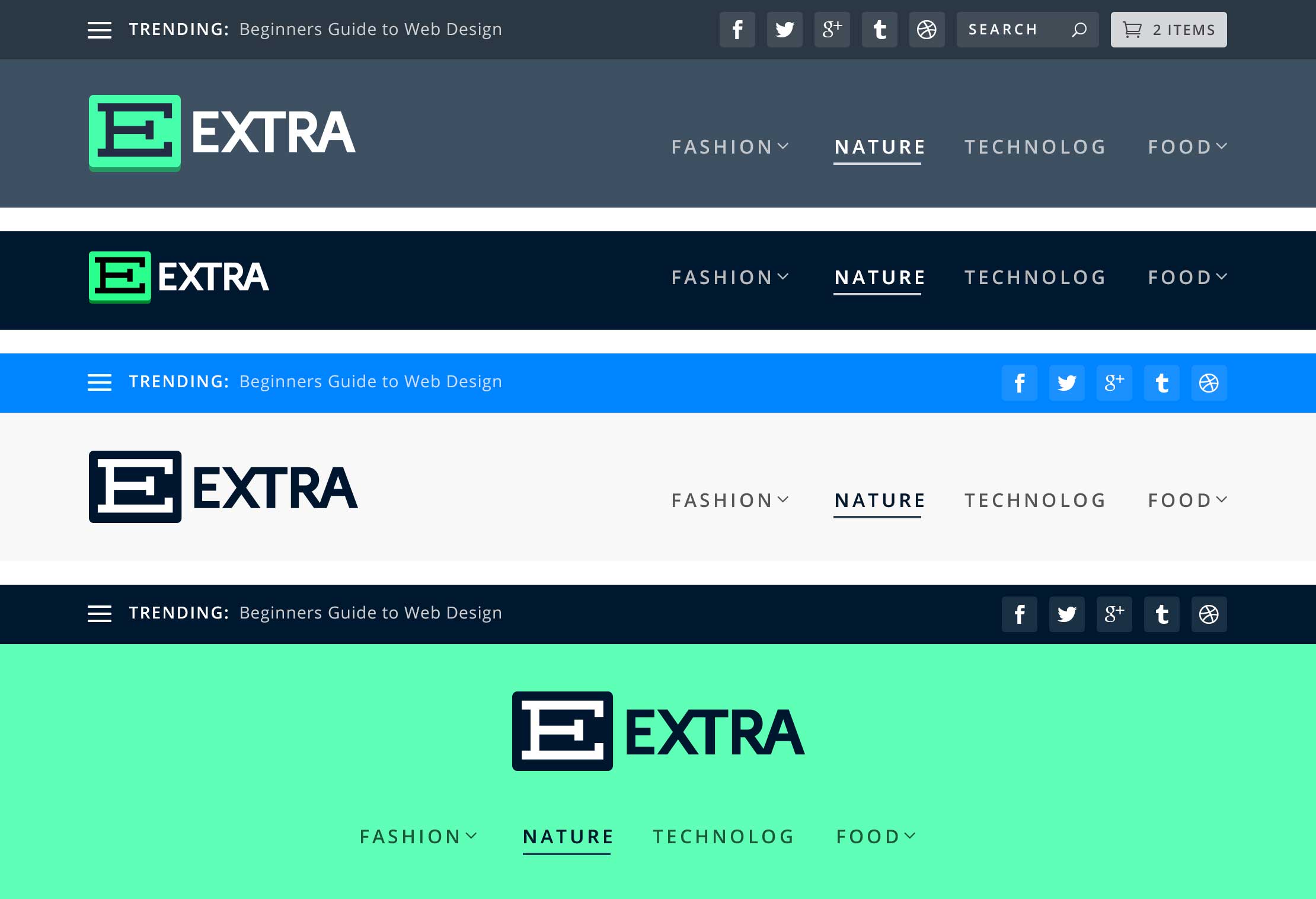 Customizing your website's header is easy with Extra. Choose from different layouts, customize fonts, adjust colors, change font sizes and more. When combined, these settings allow for a wide range of different header styles.
Advanced Mega Menus
Extra comes with a set of custom Mega Menus that were built to suit the needs of bloggers and online publications. Display your recent or favorite posts directly in the category drop-down menu!
Secondary & Footer Navigation

Extra comes with three different menu locations. In addition to the primary navigation menu, links can also be added to the footer and secondary header locations.
Back to Top, Fixed Navigation & Smooth Scrolling Link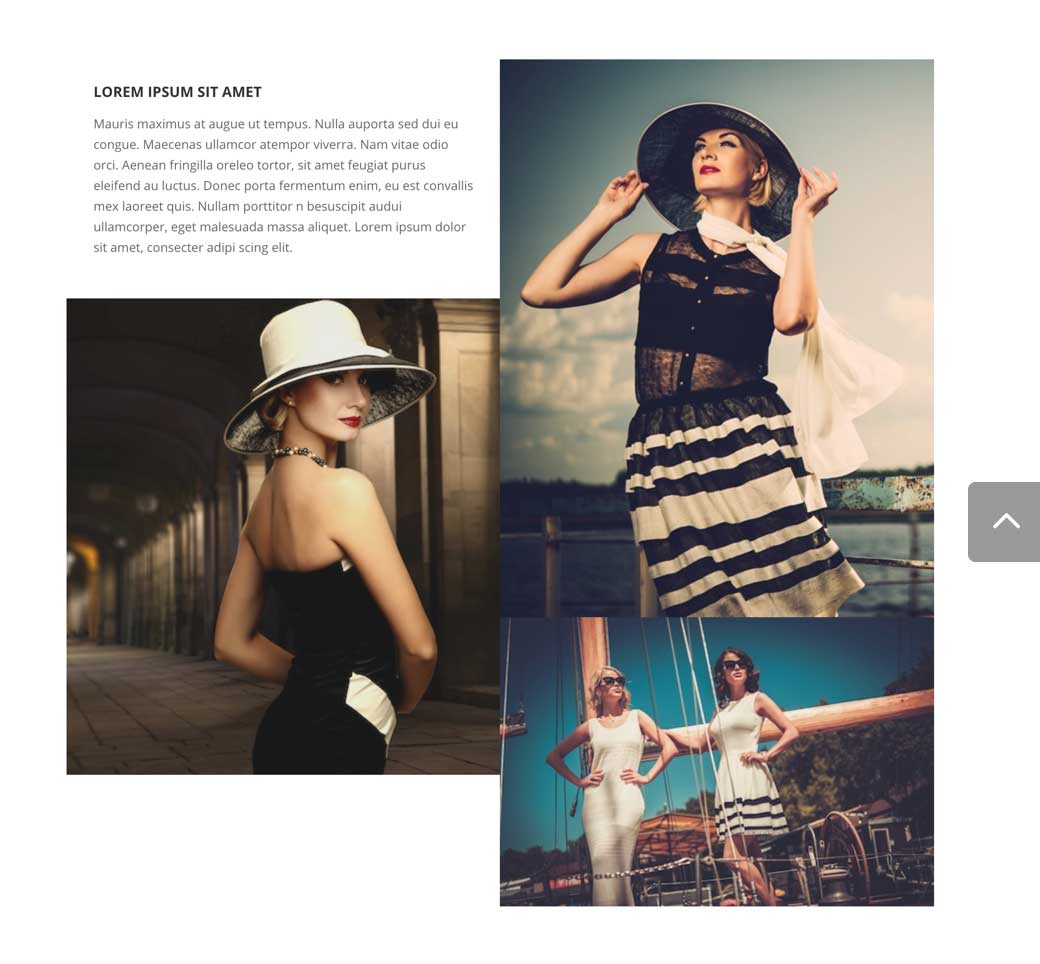 Extra makes it extremely easy to navigate your website. Its fixed header ensures that your most important links are always accessible. If the fixed header is disabled, then the back to top button makes it easy to return to your main menu after reading long posts.
3. Bloom eMail Opt-In And Lead Generation Plugin For WordPress
Gain More Email Subscribers with Bloom, an Email Opt-In Plugin for WordPress.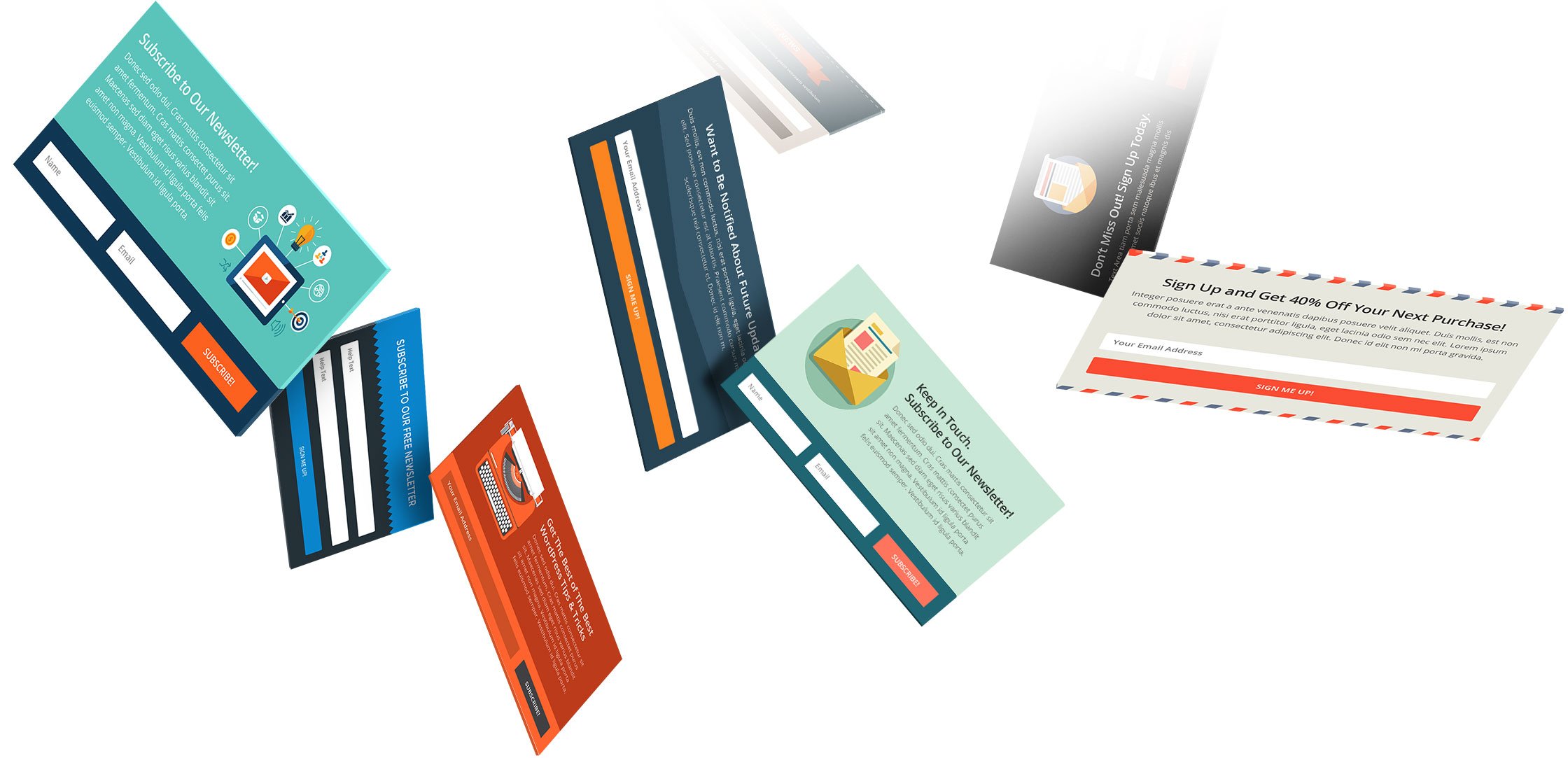 Convert Visitors Into Loyal Followers
Bloom gives you all the tools you need to turn your website's visitors into loyal followers and customers. Not only is Bloom going to convert extremely well, it's going to look great doing it.
Email marketing is extremely powerful. In fact, we see 20X the engagement from emails than we do from posts to our social media profiles.
Bloom lets you target or exclude specific posts and pages and display unique forms with unique offers based on visitor location and interaction.
We have built over 100 amazing templates, each of which can be completely customized using Bloom's extensive design settings.
Automatic Opt-In Pop-Up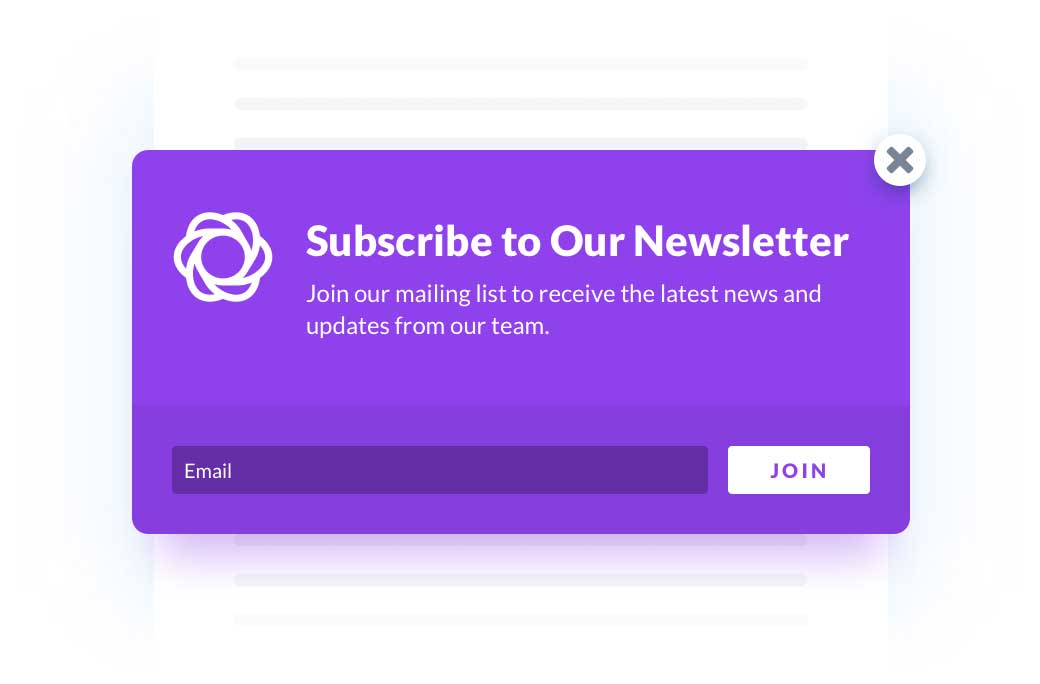 Bloom lets you create automatic opt-in pop-ups that can be triggered by timed delays, when a user reaches the bottom of a post or page, or even after they comment or purchase. This is an extremely effective way to generate and convert leads.
Automatic Opt-In Fly-Ins
Similar to triggered pop-ups, fly-ins are another great way to grab your readers' attention. Again, these can be triggered by user interaction such as timed delays or at the end of a page.
In-line Opt-In Forms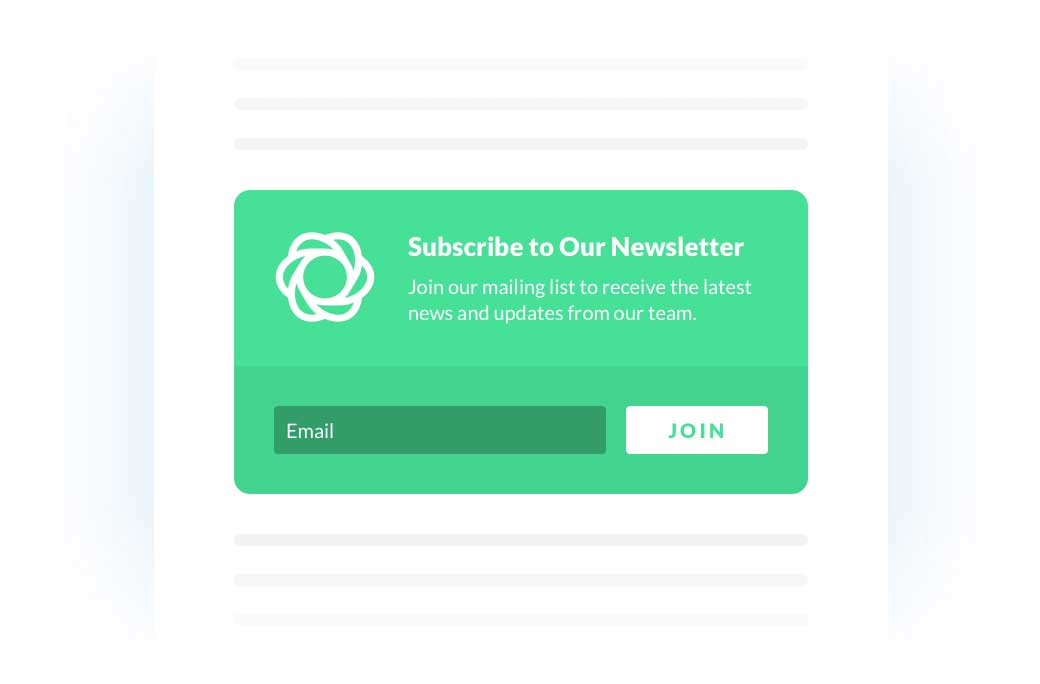 Sometimes there is need for a more location specific approach than you can get with a global pop-up or fly-in. That's where inline opt-in forms come in. Simply configure your form, generate its shortcode, and place it inside the WordPress post editor.
Below Content Opt-In Forms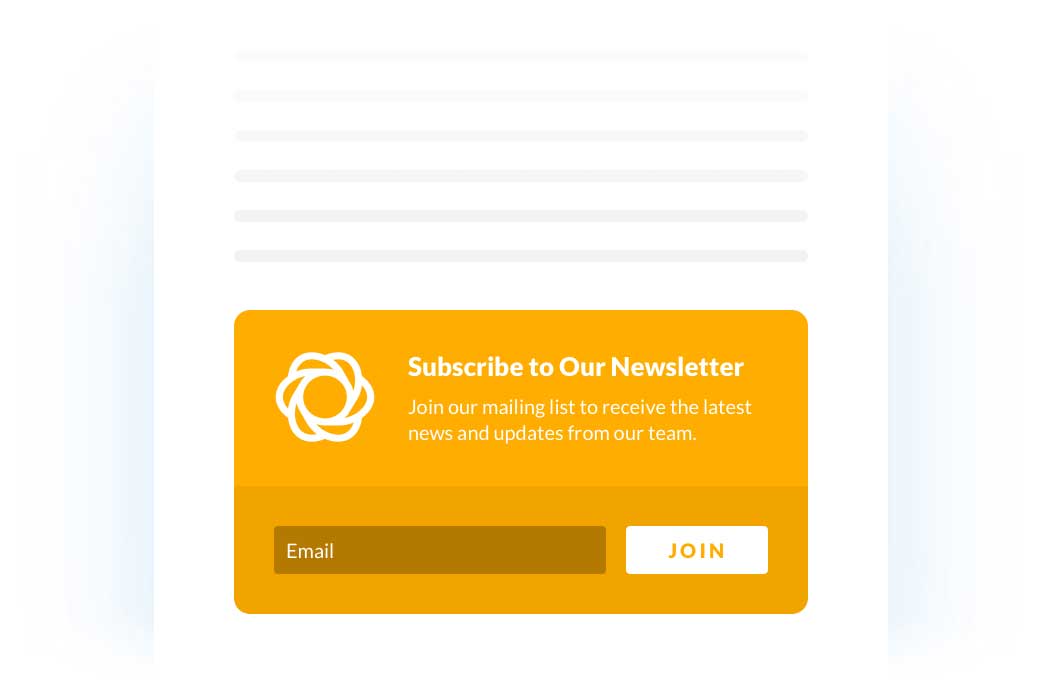 Perfect for blog posts and content heavy pages, Bloom allows you to automatically place opt-in forms below your post or page content, capturing the attention of your most engaged readers without upsetting their reading experience.
Widget Area Opt-In Forms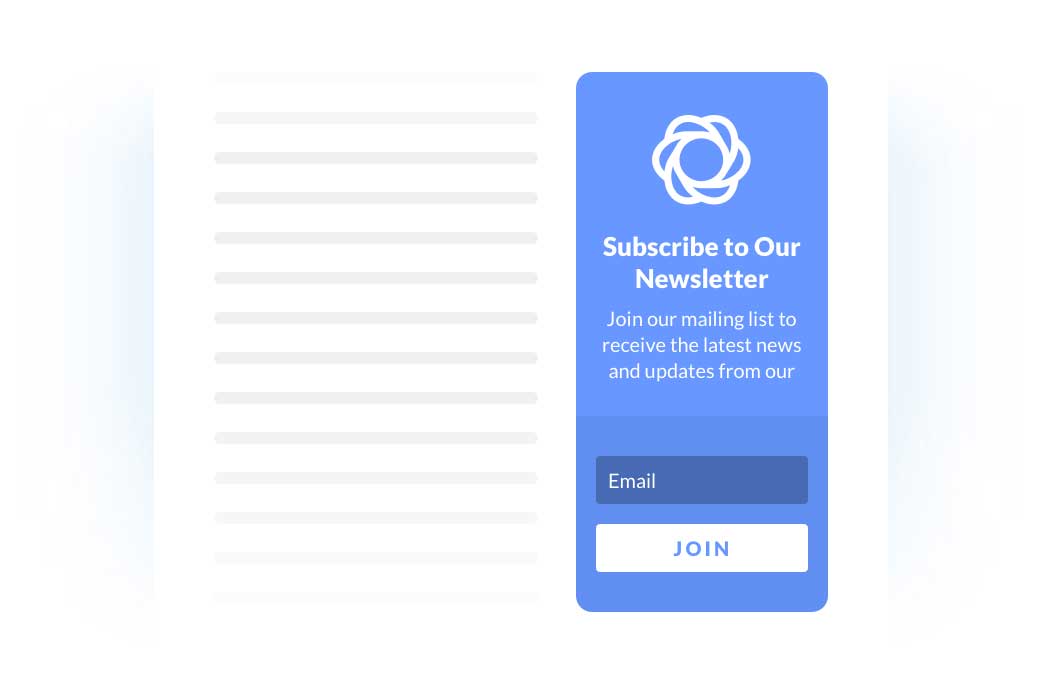 Sidebars and footers are great places to add an opt-in box. Bloom makes it easy to add opt-ins to any widget-ready area using the Bloom widget. Create as many widgets as you like and add them to any widget-ready area on your website.
Require Opt-In To Unlock Content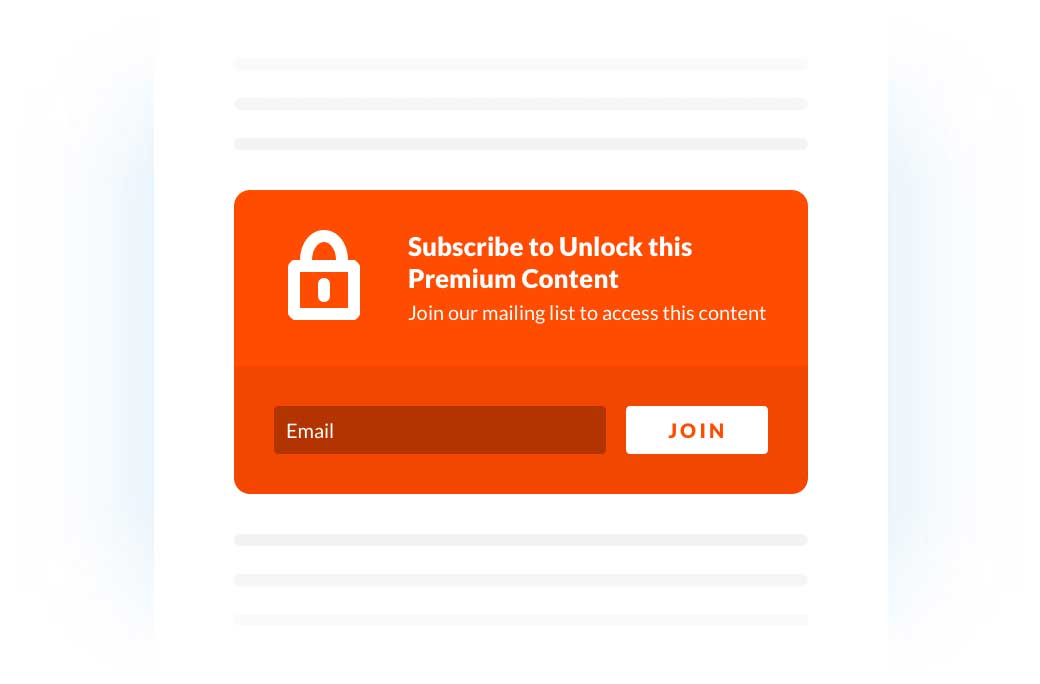 Requiring users to subscribe to your lists before gaining access to premium content is a great way to increase your subscriber count. Bloom can act as a pay-wall between your free resources and your visitors, quickly turning traffic into loyal followers.
19 Email Marketing Integrations

Bloom gives you the power to display opt-in forms using integrations of the most popular email marketing systems available. Bloom seamlessly obtains information about all of your lists and subscriber counts.
4. Monarch The Best Social Media Sharing Plugin For WordPress
Take Social Sharing to the Next Level with Monarch. A Social Media Plugin with Style
Increased Sharing
Better Design
More Locations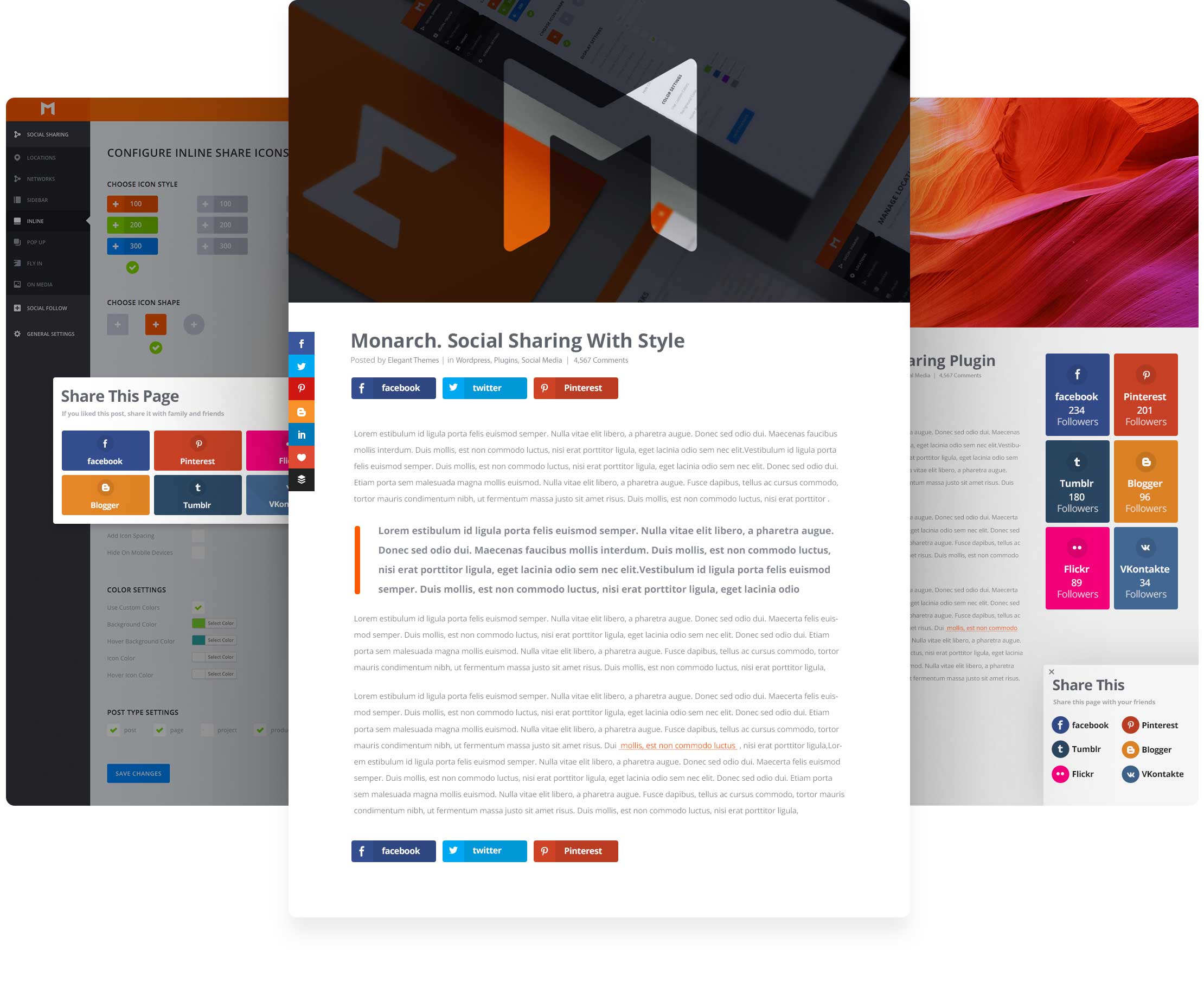 Over 20 Social Networks to Choose From

Social Media is the lifeblood that keeps the internet glowing. Social Sharing lets you harness that activity and use it as a positive force for your business. Choose from more than 20 social sharing networks to display on your website to create a custom collection of sharing options for your visitors.
Add Sharing Buttons in 5 Different Locations
Different websites, pages, and posts have different social sharing needs. That's why we've included a large selection of locations you can choose to place sharing buttons.
Floating Sidebar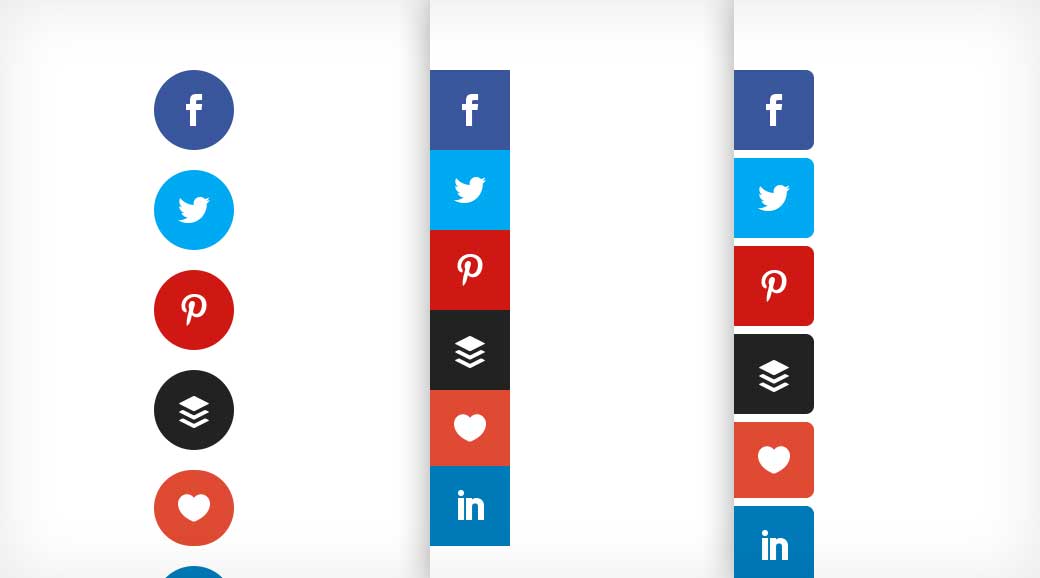 A floating sidebar is a very common, effective, and sleek way to add social sharing icons to any page on your website. We've even included unique hover styles for the vertical and browser edge orientation of a social sidebar.
Above & or Below Content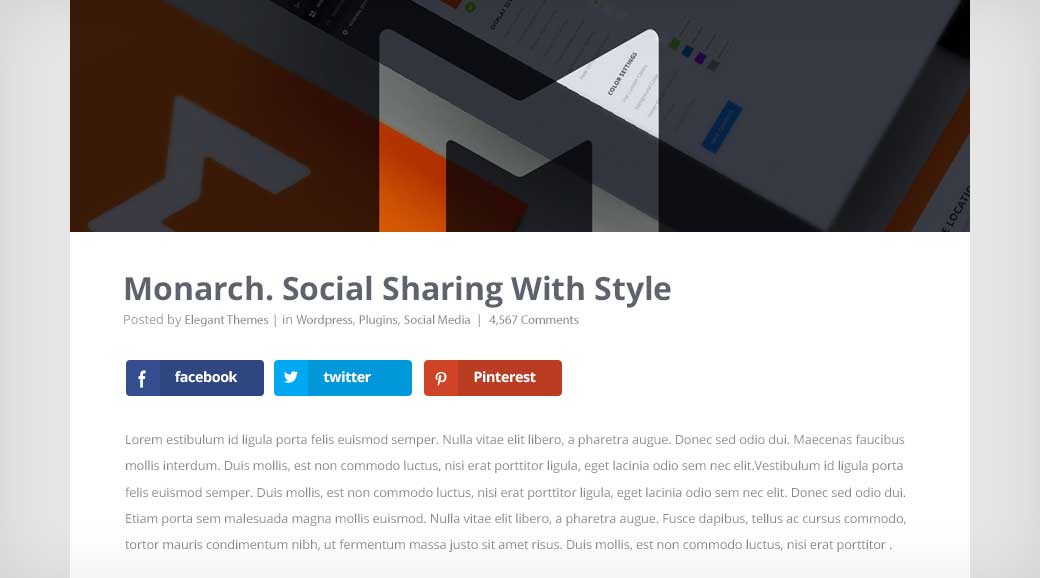 Perfect for blog posts and content heavy pages, Monarch allows you to place sharing buttons either above the content area, below the content area, or in both locations.
On Images & Videos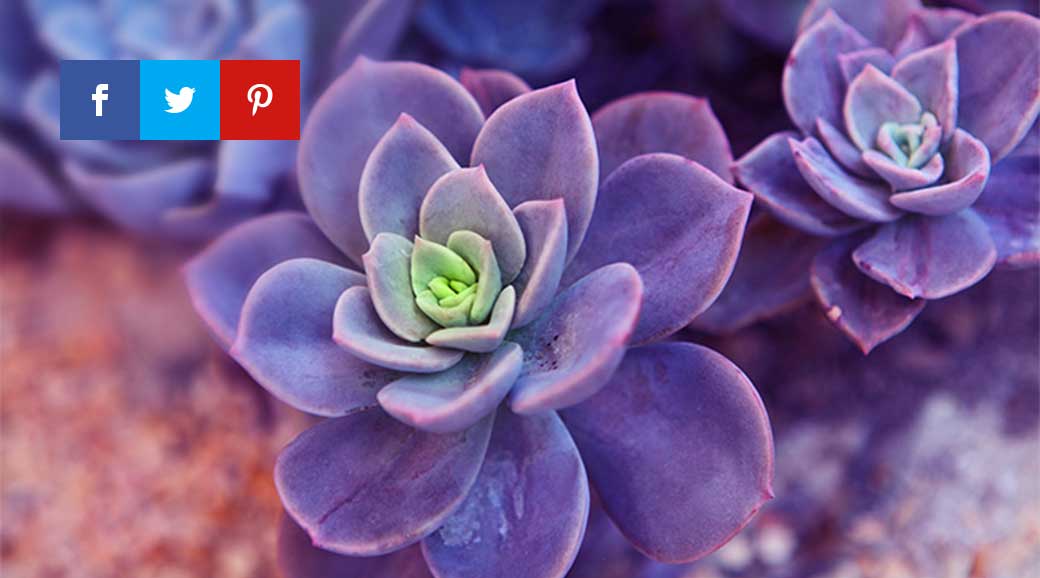 Media is arguably the most shared content on the web and Monarch makes media sharing even easier. When users hover over media elements within your content social sharing buttons fade in for quick and easy sharing.
Automatic Pop-Ups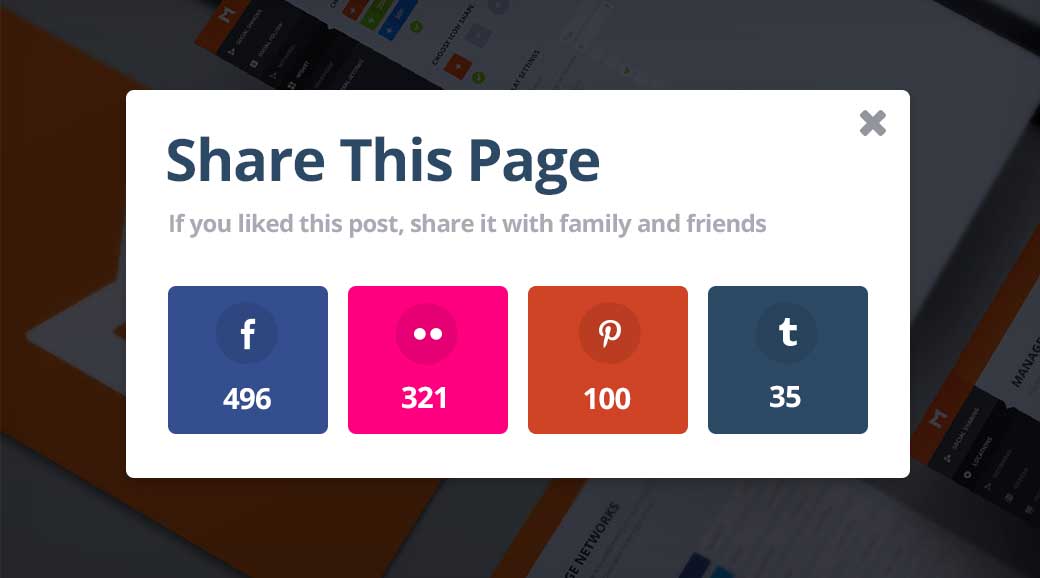 Monarch lets you create automatic sharing pop-ups that can be triggered by timed delays, such as when a user reaches the bottom of a post or page and even upon leaving a page. These are incredibly effective.
Automatic Fly-ins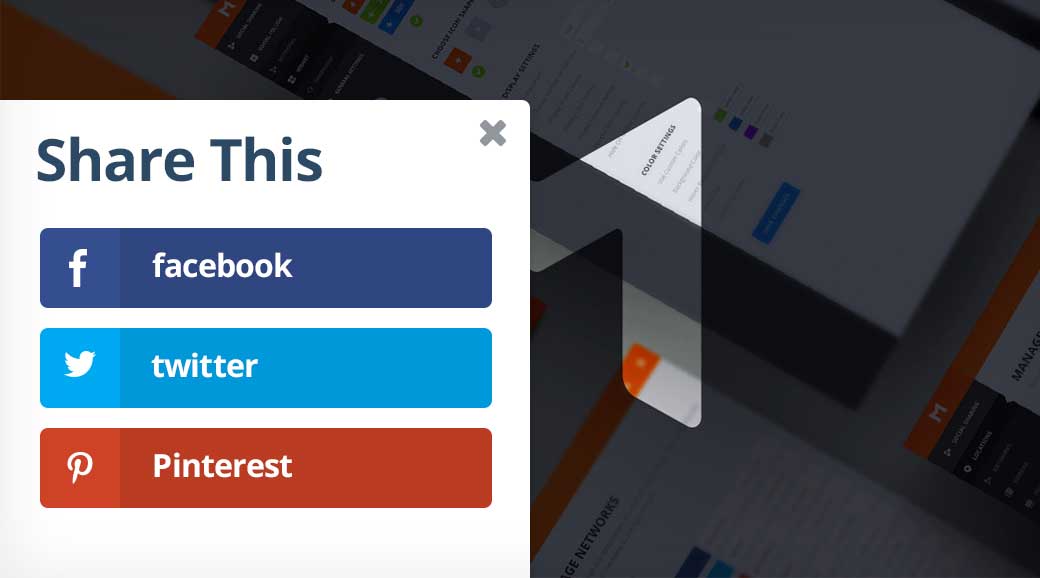 Similar to triggered pop-ups, fly-ins are another great way to grab your readers' attention when they are most engaged. These can also be triggered by time delays, page location, or when the user's mouse is leaving the page.
6 Automatic Pop-Up & Fly-In Triggers
Pop-ups and Fly-ins can be triggered by unique user interactions. This allows you to capture your visitors' attention when they are most engaged or when they are in danger of leaving your page.
Choose a timed delay for your pop-ups and fly-ins so that they trigger after your readers have been on a page for a specific duration of time.
Let Monarch auto detect when your readers reach the bottom of a post or page and give your readers a friendly reminder to opt-in.
Displaying opt-in forms to readers after commenting on a post or page is a sure way to target visitors who are clearly engaged with your content.
Use this trigger to display your opt-in forms only after a visitor scrolls a defined percentage of the way down your page.
Offer updates on future products and promotions by triggering an opt-in form for purchasing visitors right after the checkout process.
If a user is inactive on your page for too long, Bloom can be triggered to re-catch your visitor's attention with a pop-up or fly-in
DIVI MONK CLOUD BASED DIVI TEMPLATE LIBRARY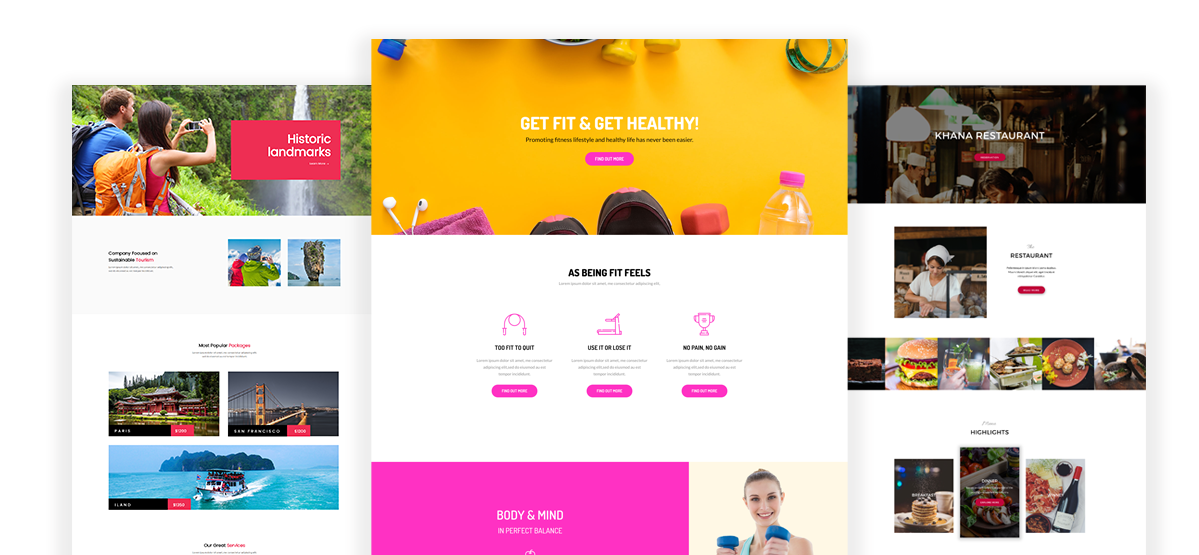 BUILD BEAUTIFUL DIVI WEBSITES FASTER THAN EVER.
Divi Monk's cloud-based Template Library gives you access to hundreds of reusable designs. This will save you time and efforts, speeding your development process.
Get access to a huge template library and instantly install the designs you need.
You can change the branding easily for Divi Monk and name it to yourself.
Hand crafted by experienced designers so that you can use them right away.
Reusable sections and page templates will save you a lot of time.
Good design with balanced call to actions help you generate more leads.
Completely mobile responsive templates. Looks good on all devices.
REGULARLY UPDATED
We keep adding new templates regularly to match the latest design trends.
Build your own WordPress Multi-site network or a website builder platform
Divi Monk offers white label branding so that you can change the plugin name, developer name and other details to provide a seamless experience to your clients.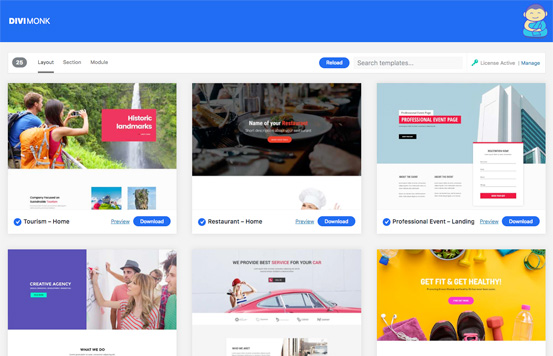 Browse the templates from your WordPress admin, install and use the ones you like.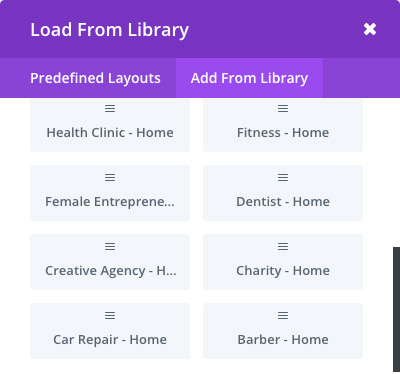 Get access to all the installed templates in Divi Library and load them as you build a page.
Divi Pack Subscription Plan:
Divi theme Lifetime
Divi page builder plugin Lifetime
Extra Theme Lifetime
Bloom Email Lifetime
Monarsh Lifetime
Divi Monk Lifetime
Sure. You are getting the original product. We do not deal with GPL or NULLED products, and all the products we offer in our store are with official licenses and support automatic updates.
Does the product support updates?
Yes, when you buy any product from the Cheaperwp store, you get the original product so you can get updates directly through your site control panel.
Can I get the serial License Key?
Yes, when you purchase the product for unlimited websites, you can get the product with a serial key. But when you buy the product only for one site, you will not get the serial key.
 the customer must send the login data to his site to install and activate the required product or Through the Anydesk connection ine case, you buy the product for one website.
Can I use the product in more than one website?
Unfortunately, when you purchase any product from our store, you can only use it on one site. What is the process for manual installation? After completing the purchase, you send your WordPress login details to install the product or we can install it through Anydesk.
What is the process for the unlimited pack?
After completing the purchase, you will get the product files + Serial key.